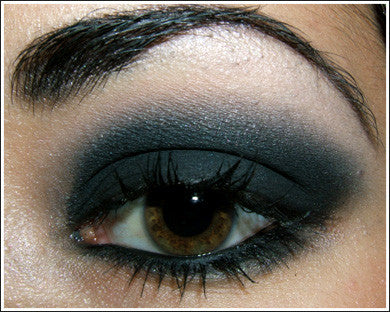 We all love a smoky eye.  Here are some tips to make sure you are executing it perfectly! 
Of course start with a clean face. Prep your skin with eye cream and moisturizer. Give them a few minutes to sink in.
Concealer is a huge deal when trying to pull off a dramatic eye. The natural darkness around your eyes will make your overall makeup look sloppy. Conceal above and below your eyes, paying special attention to the inner and outer corners (this is where darkness lurks!) 
Liner
Use a dark liner – cream or pencil – and line your eye from end to end on the upper lid. Make the line thinner at the inner corner then gradually thicken it towards the outer end. Rim the lower inner lid as well. 
Smudge it up!
Use an angled eyeliner brush, a pencil brush or a Q-tip to smudge the liner you have just applied. The point is to blur the hard edge of your eyeliner. You can dip your brush in a bit of dark shadow and use it to soften the liner if it does not blend out easily (that's what I do). Do this on the top and bottom. Blend the outer halves of your eyes more than the center or inner corners. 
Highlight to make it pop
It's so important to create contrast. I know, a lot of smokey eyes look like they are only one deep shade of color swiped across the entire lid, but if done well, this is not actually the case. Use a light color of shadow – think champagnes, vanillas, or creams – and highlight the inner corner of your eye (in a C shape around the tear duct) and under the brow. 
4 . Medium Shadow for depth
This is the step many people miss. A medium shadow, something in the same color family as your lid color, but lighter, should be used in the crease. You're trying to create depth without leaving any obvious lines. It's important to overlap the dark and medium shades where they meet. Use the same medium tone to blend the outer portion of your lower lid. 
And voila you're done!
Don't think black is the only way to go...Smoke up purple, blue, or green liners and shadows with the same technique.  This is also a great way to incorporate your uniform colors ;)