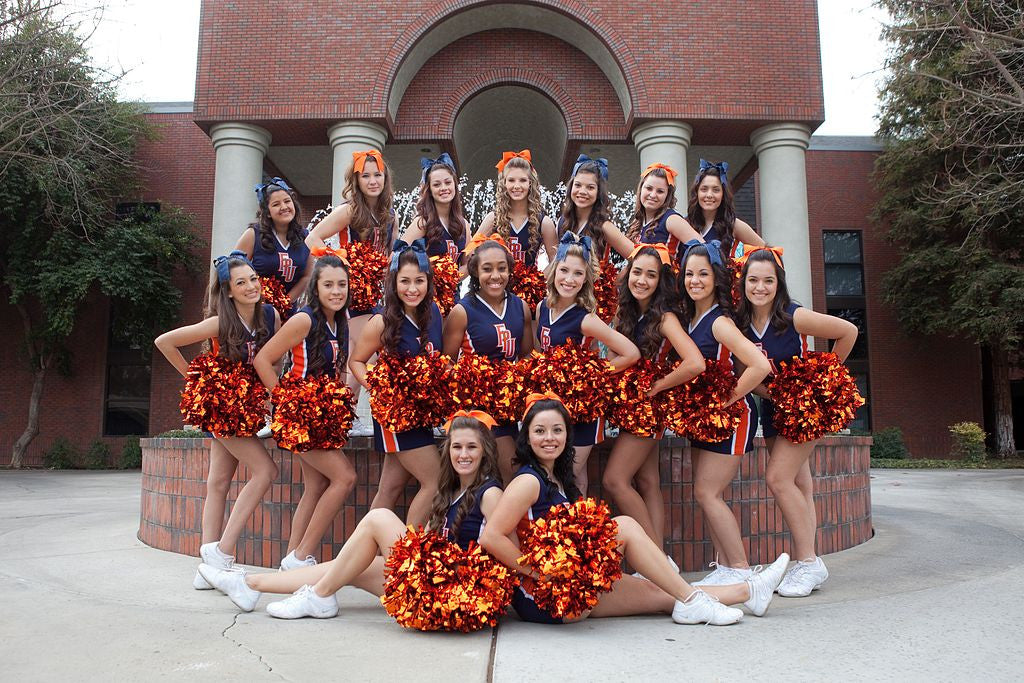 And the season starts again...(whew that was fast!)  Teams are putting together stunt groups, choreography, and their "look".  Choosing team makeup kits (both on the floor and the track) is a bit more difficult than looking for and applying make up for day to day wear. Many regular daily wear cosmetic options are also not suitable to be worn while cheering. Here are a few things to consider while choosing your performance cosmetics:
LONG LASTING: Nothing is less attractive than a cheerleader with make up running down her face! Choose make up that provides decent coverage, is sweat proof, and that won't cog your pores.
BOLD:  As you are quite a distance from the crowd, your make up needs to be bold enough to be seen from a long way's away.
FRESH: Though your make up does need to be bold to be visible, do not mistake this for applying thicker, heavier make up. This will only age you or make you appear clownish, gaudy or tacky.
Cheerleading make up is all about choosing the right make up colors that will work with your features and skin tone, and then applying them correctly so that your features are highlighted appropriately. Here are some techniques you can use to help accentuate your features while cheering for the team:
EYES: The important thing to remember about your eyes is that they should always have mascara and eye liner applied, regardless of whether or not you do choose to apply eye shadow. Applying eye liner to the upper and lower eye lid will allow for your eyes to be visible from a distance and give your eyes depth. Applying 1-2 coats of mascara will enhance that depth and make your eyes really stand out.
LIPS: You must never neglect your lips! You can choose to apply a bold shade of lipstick and liner to help draw attention to them, or you can also apply a stunning gloss that will catch the competition floor, stadium or gymnasium lights. Neglecting to put anything on your lips will cause you to have a washed out or "faded" appearance.
CHEEKS: Many girls make the mistake of brushing on a far darker shade of blush to their cheeks before performing in front of a crowd. If you do choose to wear a darker shade, choose a blush that is only a shade or two darker than what you would usually wear. You can also enhance your cheeks with a light dusting of shimmer or bronzer for a more natural, fresh look.
Above all you are a team...all makeup should coordinate and present as a uniformed group.  Nail your routine and get Style Points too!